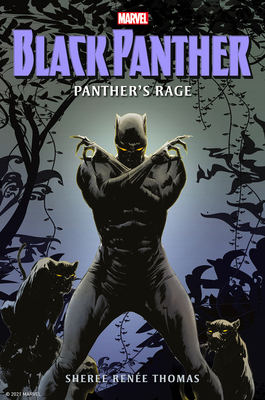 Black Panther: Panther's Rage
Publication Date:
October 11th, 2022
Description
An all-new re-imagining of the legendary Black Panther comics arc, Panther's Rage, from an award-winning author.
T'Challa, the Black Panther, returns to Wakanda to show Monica Lynne his home. But he finds violence in the streets, discontent brewing in his people, and the name Killmonger following him everywhere he goes. When a revered storyteller—and T'Challa's mentor—is murdered, he uncovers the first threads of a growing rebellion that threatens to engulf his beloved Wakanda.
Wakanda's high-tech king must travel the savannah, into the deepest jungles and up the snow-topped mountains of his homeland in this prose adaptation of the landmark comics series by Don McGregor, Rich Buckler and Billy Graham. Discover the life and culture of the Wakandans, and see T'Challa channel the strength of his ancient bloodline to take out foes such as Venomm, Malice and the fearsome Erik Killmonger!
Praise for Black Panther: Panther's Rage
Sheree Renée Thomas, a master of the craft and a true literary alchemist, blends the joys and sorrows of action, diaspora, spirituality, culture, and love into absolute gold. Every sentence is poetry and every scene pulses with the lifeblood of Wakanda. A stunning work of mythos and adventure! 
— Daniel José Older, New York Times-bestselling author of Shadowshaper, The Book of Lost Saints, Star Wars Last Shot, Star Wars High Republic, and Ballad & Dagger
With Panther's Rage, noted science fiction/fantasy writer Sheree Renée Thomas shows her literary
flexibility by transforming a graphic adventure into an Afrofuturist novel without losing the action, suspense and richness of the source material. From the Motherland of Africa to the Muthaland of Harlem and back again, Thomas retains the pulp aspects of Panther while still delivering an artistic novel. Like the best pulp-lit, Panther's Rage is emotional while still being explosive and a poetic page-turner without being pretentious. 
— Michael A. Gonzales, CrimeReads
This prose reimagining of the original comic series by Don McGregor, Rich Buckler and Billy Graham adds another dimension to the Black Panther/Marvel universe and makes a great collector's edition too.
—Culturefly

Majestic yet rooted in the common soil of his people; raging yet tender; supremely confident yet still subject to human doubt, Sheree Renée Thomas's portrait of T'Challa, the Black Panther, is luminous in its depth and precision. This is our apex Black superhero as he was truly meant to be, from the moment that Lee and Kirby created him... A non-stop, pulse-pounding adventure in which the stakes are huge, the action is wild, and the outcome always teeters on the edge of a blade... Black Panther: Panther's Rage contains so many wonders and excitements that it could fill half-a-dozen silver screens.
— Paul Di Filippo, author of The Summer Thieves and others.
[Panther's Rage] ignited in my mind. The prose was a delight, characters, landscape, dilemmas all rendered with effortless ease... The cultural richness of the storytelling makes me want to dance to its music. The action is fast, the dialogue is pitch perfect—it captures the moods of civil war, of love, of loss, of anguish as Wakandans face the enemy within. What a book for the moment we are living in right now in the USA. A timely book, indeed. 
— Andrea Hairston, award-winning author of Master of Poisons, Redwood and Wildfire and more
Sheree Renée Thomas has come into her own as a novelist in the Black literary speculative tradition of Pauline Hopkins and others. Building on the legacy of Don McGregor, Billy Graham, and Rich Buckler, she skillfully paints a rich, imaginative Afrofuturist picture that takes us from the nightclubs of Harlem to the kingdom of Wakanda. Navigating the tensions of love, betrayal, and revolution, Black Panther: Panther's Rage is the tour de force fans have been waiting for.
— Reynaldo Anderson, Associate Professor of Africology and African American Studies, Temple University and Executive Director of the Black Speculative Arts Movement