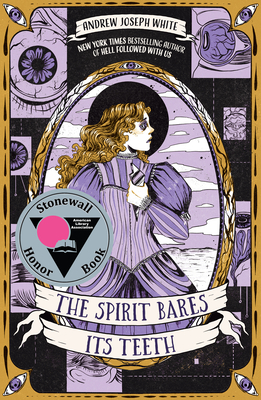 The Spirit Bares Its Teeth
Publication Date:
September 5th, 2023
Publisher:
Peachtree Teen
Usually Ships in 1 to 5 Days
White expertly turns horror and the grotesque into a tender and beautiful exploration of gender, neurodivergence, and self that grabs you and refuses to let go. Incredible, brilliant, absolutely beautiful, very gross — the perfect mix.
September/October 2023 Kids Indie Next List
Description
INSTANT NEW YORK TIMES BESTSELLER!
A blood-soaked and nauseating triumph that cuts like a scalpel and reads like your darkest nightmare.
New York Times bestselling author Andrew Joseph White returns with the transgressive gothic horror of our time!
Mors vincit omnia. Death conquers all.
London, 1883. The Veil between the living and dead has thinned. Violet-eyed mediums commune with spirits under the watchful eye of the Royal Speaker Society, and sixteen-year-old trans, autistic Silas Bell would rather rip out his violet eyes than become an obedient Speaker wife.
After a failed attempt to escape an arranged marriage, Silas is diagnosed with Veil sickness—a mysterious disease sending violet-eyed women into madness—and shipped away to Braxton's Finishing School and Sanitorium. When the ghosts of missing students start begging Silas for help, he decides to reach into Braxton's innards and expose its guts to the world—so long as the school doesn't break him first.
Featuring an autistic trans protagonist in a historical setting, Andrew Joseph White's much-anticipated sophomore novel does not back down from exposing the violence of the patriarchy and the harm inflicted on trans youth who are forced into conformity.
A Chicago Public Library 'Best of the Best' Book
A Shelf Awareness Best Book of the Year!
A School Library Journal Best Book of the Year
Praise for The Spirit Bares Its Teeth
★ "Redefines the concept of a 'visceral' book. . . . parallels to the dangerous pressure to conform (especially for trans or autistic teens) and the importance of being seen and understood are masterfully shown. . . . readers, take care."—Booklist, Starred Review
★ "White wields prose like a scalpel, cutting deep and spilling guts with gruesome precision. . . . Visceral and vindicating."—Kirkus Reviews, Starred Review

★ "Via precise, intentional prose, White (Hell Followed with Us) crafts an unsettlingly horrific tale that boasts a rich and fully realized world, propelled by a champion of a protagonist whose determination to fight for his right to survive is both uplifting and empowering."—Publishers Weekly, Starred Review
 
★ "White brings such raw agony, power, and desperation to his complex and layered characters that it is impossible to not feel immediately sympathetic and deeply invested in their survival."—The Bulletin for the Center of Children's Books, Starred Review
★ "[A] riveting, spellbinding Victorian horror about a neurodivergent trans boy desperate to escape the life his family has planned for him. . . . White shows in this sharp, tense novel the same kind of visceral prose that garnered such acclaim for his debut, Hell Followed with Us."—Shelf Awareness, Starred Review
"Readers' sympathies are fully engaged. Secondary characters are rounded as well, creating intriguing dynamics."—The Horn Book
 
"Following on the heels of his game-changing debut, Andrew Joseph White returns with a biting and brilliant gothic horror that captivates from the first sentence… Poised to become another classic of the genre." —Kay Frost, Brookline Booksmith, Brookline, MA
"A tender, bleeding wound of a story. Andrew Joseph White has ruthlessly sliced through the facade of our society, and invites readers to plunge their bare hands into the grisly and alluring darkness within." —Bri Evans, West Side Books, Denver, CO
"No one can write quite so viscerally beautiful as Andrew Joseph White, and The Spirit Bares Its Teethtwists and writhes into your heart from page one."—Minna Banawan, Park Road Books, Charlotte, NC
"A fierce, gory, subversive, and timely probe into Victorian society that celebrates trans and queer resilience. This is a scalpel to the eyes and heart only Andrew Joseph White can deliver."—Alyssa Raymond, Copper Dog Books, Beverly, MA
"Andrew Joseph White continues to break boundaries into new, deeply chilling forms. The Spirit Bares Its Teeth is a merciless yet masterful dissection of gothic horror that spares no anesthesia, and thankfully so. The hauntings in these pages will find their way into you, so deep that nothing will be able to cut them out."  —Ryan La Sala, bestselling author of The Honeys and Beholder
 
"With surgical precision, The Spirit Bares its Teeth exposes the menace of conformity in society. I devoured every vicious and human sentence. Let Silas Bell tear you apart, then stitch you back together." —Trang Thanh Tran, New York Times bestselling author of She is a Haunting
 
"An absolute sucker punch of a novel. While the gore and body horror are exactly as brutal and artful as you'd expect from Andrew Joseph White, there's an undercurrent of validating tenderness that makes this story wholly unique. This book will slice you open, shift through your insides, and stitch you closed anew." —Kayla Cottingham, New York Times bestselling author of My Dearest Darkest
 
"A book that cracks and spreads the ribs before massaging your heart underneath, this is a must-read that will haunt you long after it's over, proving that Andrew Joseph White is the reigning king, draping visceral horror in a feral kind of hope." —Jamison Shea, author of I Feed Her to the Beast and the Beast is Me
"Andrew Joseph White brings his phenomenal talent and searing prose to an unflinching tale of a violet-eyed boy, desperate spirits, and very human monsters. The Spirit Bares Its Teeth is as brutal and necessary as a surgical incision." —Kate Alice Marshall, author of Rules for Vanishing and What Lies in the Woods