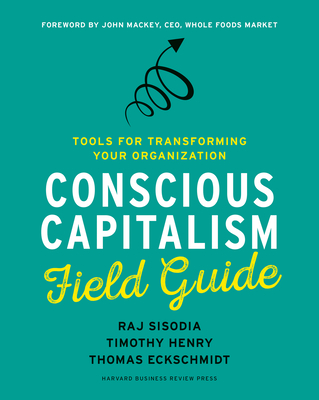 Conscious Capitalism Field Guide: Tools for Transforming Your Organization
Publication Date:
April 10th, 2018
Publisher:
Harvard Business Review Press
Usually Ships in 1 to 5 Days
Description
Build conscious leadership into your business.
You subscribe to the basic idea that business can do more than make money, but you're not sure how to act on that conviction or how to share it with the rest of your organization. The Conscious Capitalism Field Guide--the authoritative follow-up to the bestselling book Conscious Capitalism, by John Mackey, CEO of Whole Foods Market, and leadership expert Raj Sisodia--gives you the tools for sharing and implementing the principles of higher purpose and conscious business throughout your organization.
This practical guide provides hands-on materials--the same tools used in companies such as Whole Foods Market, Southwest Airlines, Life is Good, The Container Store, Barry-Wehmiller, Zappos, and many others--that you can use on your own, with your team, or with others throughout your organization to build conscious leadership and practices into your business. Organized according to the four core principles (higher purpose, stakeholder orientation, conscious leadership, and conscious culture) of Conscious Capitalism, the book provides exercises, worksheets, checklists, and instructions--for use both individually and with teams--as well as advice, examples, and real-life stories to help you apply these ideas and make them come alive in your organization. You and your team will:
write a purpose statement
learn how to create win-win-win relationships with all your stakeholders
create a culture playbook for your company
develop a leadership checklist for your organization
build a personal leadership development plan
set priorities for the coming year and beyond