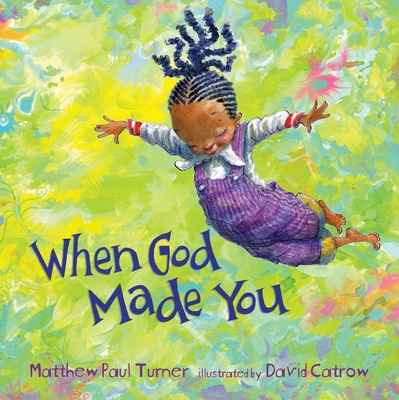 When God Made You
Publication Date:
February 28th, 2017
Publisher:
Convergent Books
Usually Ships in 1 to 5 Days
Description
YOU, you… God thinks about you.
God was thinking of you long before your debut.
From early on, children are looking to discover their place in the world and longing to understand how their personalities, traits, and talents fit in. The assurance that they are deeply loved and a unique creation in our big universe is certain to help them spread their wings and fly. 
 
Through playful, charming rhyme and vivid, fantastical illustrations, When God Made You inspires young readers to learn about their own special gifts and how they fit into God's divine plan as they grow, explore, and begin to create for themselves. 
 
'Cause when God made YOU, somehow God knew
That the world needed someone exactly like you!
Praise for When God Made You
ECPA bestseller
'When God Made You' is one of the most beautiful, most compelling, and most life-affirming children's books I've ever read--it's 'Oh, the Places You'll Go' meets the Divine. This book is a gift for kids of all ages!" –Amy Grant, six time Grammy Award-winning artist
"One of the most beautiful children's books I've ever read and the walls of our house are lined with books." –Ann Voskamp, author of the New York Times Bestsellers, "The Greatest Gift" & "One Thousand Gifts"