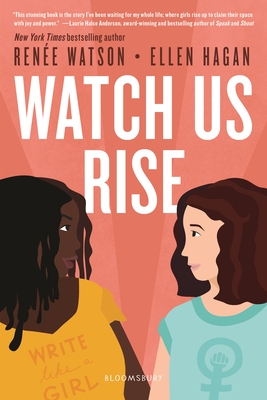 Watch Us Rise
Publication Date:
February 11th, 2020
Usually Ships in 1 to 5 Days
Description
"This stunning book is the story I've been waiting for my whole life; where girls rise up to claim their space with joy and power." --Laurie Halse Anderson, New York Times bestselling and award-winning author of Speak
"An extraordinary story of two indomitable spirits." --Brendan Kiely, New York Times bestselling co-author of All American Boys and Tradition
"Timely, thought-provoking, and powerful." --Julie Murphy, New York Times bestselling author of Dumplin'
Newbery Honor and Coretta Scott King Award-winning author Renée Watson teams up with poet Ellen Hagan in this YA feminist anthem about raising your voice.
Jasmine and Chelsea are best friends on a mission--they're sick of the way women are treated even at their progressive NYC high school, so they decide to start a Women's Rights Club. They post their work online--poems, essays, videos of Chelsea performing her poetry, and Jasmine's response to the racial microaggressions she experiences--and soon they go viral. But with such positive support, the club is also targeted by trolls. When things escalate in real life, the principal shuts the club down. Not willing to be silenced, Jasmine and Chelsea will risk everything for their voices--and those of other young women--to be heard.
These two dynamic, creative young women stand up and speak out in a novel that features their compelling art and poetry along with powerful personal journeys that will inspire readers and budding poets, feminists, and activists.
Acclaim for Piecing Me Together
2018 Newbery Honor Book
2018 Coretta Scott King Author Award
2017 Los Angeles Times Book Prize, Young Adult Finalist
"Timely and timeless." --Jacqueline Woodson, award-winning author of Brown Girl Dreaming
"Watson, with rhythm and style, somehow gets at . . . the life-changing power of voice and opportunity." --Jason Reynolds, NYT-bestselling author of Long Way Down
"Brilliant." --John Green, New York Times bestselling author of The Fault in Our Stars
* "Teeming with compassion and insight." --Publishers Weekly, starred review
* "A timely, nuanced, and unforgettable story about the power of art, community, and friendship." --Kirkus , starred review
* "A nuanced meditation on race, privilege, and intersectionality." --SLJ, starred review
Praise for Watch Us Rise
"This stunning book is the story I've been waiting for my whole life; where girls rise up to claim their space with joy and power. I resolve to give a copy to every teenager I know!" —Laurie Halse Anderson, New York Times bestselling and award-winning author of SPEAK and SHOUT
"An extraordinary story of two indomitable spirits, the power of friendship, and what leadership looks like in the hands of young people today, Watch Us Rise is the novel we all need right now." —Brendan Kiely, New York Times bestselling co-author of ALL AMERICAN BOYS and TRADITION
"Timely, thought-provoking, and powerful. Watch Us Rise is an immediate young adult classic." —Julie Murphy, New York Times bestselling author of DUMPLIN'
"Watch Us Rise is a source of inspiration on every page and a remarkable story of the power of young people to make a difference. And it's a great read." —Caroline Kennedy, bestselling author and editor of SHE WALKS IN BEAUTY
"In this hybrid almanac of poetry, narrative and novel, Watson and Haganpiece together the ultimate pictorial of friendship, life, elegy and New York City. Through the eyes of Chelsea and Jasmine we celebrate legacy and cultures, art and diaspora, feminism and home! Read this today. Give it to the young person in your life. It is an instruction manual to freedom and love and voice. It is a triumphant example of how literary arts and poetry intersect in our everyday lives and fortify the marrow of our survival." —Mahogany L. Browne, author of BLACK GIRL MAGIC and WOKE BABY
"A highly needed work for the #MeToo movement. . . . Watson and Hagan do not disappoint in this powerful story of two girls who take a stand against injustice while learning how to navigate a world that seeks to silence them." —School Library Journal, starred review
"A manifesto for budding feminists . . . An inspiring look at two strong-willed teens growing into even stronger young women ready to use their voices and take on the world" —Kirkus Reviews, starred review
"This intersectional, layered novel . . . covers a wide breadth of topics-institutionalized racism, how we undermine young women, feminism in the modern age-with a clear message: Girls are going to come out on top." —Marie Claire
"A complex and socially conscious coming-of-age tale featuring young women of color. . . . It's a message, and a story, that any teen could benefit from and enjoy." —Publishers Weekly
"Readers will be inspired by this story in which teens have the conviction and power to change and make their world better." —VOYA
"The girls' movement is compelling and meaningful . . . and their poetry and prose are polished and powerful." —BCCB
"A refreshingly unapologetic celebration of young women's voices. . . . Readers won't be able to help feeling empowered and uplifted by the end of the novel." —Booklist Online
"Timely and timeless, Piecing Me Together is a book about the ways young people deal with the hardships and heartbreak of everyday living while remaining whole and true to themselves." —Jacqueline Woodson, National Book Award-winning author of BROWN GIRL DREAMING on PIECING ME TOGETHER
"Watson, with rhythm and style, somehow gets at the toxicity of sympathy, the unquenchable thirst of fear, and the life-changing power of voice and opportunity, all wrapped up in Jade" —Jason Reynolds, New York Times bestselling and award-winning coauthor of ALL AMERICAN BOYS on PIECING ME TOGETHER
"An important and deeply moving novel. Highly recommended." —John Green, New York Times bestselling and award-winning author of THE FAULT IN OUR STARS on PIECING ME TOGETHER
"An honest look at how girls stitch together their talents to find their voice and power. Renee Watson is a top-rate storyteller about what impacts young women today." —Meg Medina, award-winning author of BURN BABY BURN on PIECING ME TOGETHER
"Teeming with compassion and insight, Watson's story trumpets the power of artistic expression to re-envision and change the world." —starred review, Publishers Weekly on PIECING ME TOGETHER
"A timely, nuanced, and unforgettable story about the power of art, community, and friendship." —starred review, Kirkus Reviews on PIECING ME TOGETHER
"This unique and thought-provoking title offers a nuanced meditation on race, privilege, and intersectionality." —starred review, School Library Journal on PIECING ME TOGETHER
"A thoughtful testament to the value of growth and of work, of speaking up and of listening, that will resonate with many readers engaged in 'discovering what we are really capable of.'" —starred review, BCCB on PIECING ME TOGETHER
"Writing with the artfulness and insights of African American teen-lit pioneers Rita Williams-Garcia, Angela Johnson, and Jacqueline Woodson, Watson shows Maya exploring concerns rarely made this accessible . . . essential for all collections." —starred review, Booklist on THIS SIDE OF HOME
"Watson paints a thoughtful, powerful picture of the complications of contemporary African-American experience, especially when it rubs up against the hipster middle class." —starred review, BCCB on THIS SIDE OF HOME