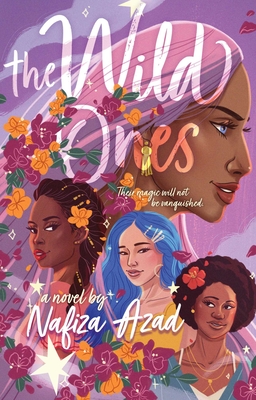 The Wild Ones
Publication Date:
August 3rd, 2021
Publisher:
Margaret K. McElderry Books
Usually Ships in 1 to 5 Days
Description
"Utterly unique storytelling…a tale that refuses to flinch." — Chloe Gong, New York Times bestselling author of These Violent DelightsFrom William C. Morris Finalist
Nafiza Azad comes a thrilling, feminist fantasy about a group of teenage girls endowed with special powers who must band together to save the life of the boy whose magic saved them all.
We are the Wild Ones, and we will not be silenced.
We are girls who have tasted the worst this world can offer. Our story begins with Paheli, who was once betrayed by her mother, sold to a man in exchange for a favor. When Paheli escaped, she ran headlong into Taraana—a boy with stars in his eyes, a boy as battered as she was. He tossed Paheli a box of stars before disappearing. With the stars, Paheli gained access to the Between, a place of pure magic and mystery. Now, Paheli collects girls like us, and we use our magic to travel the world, helping to save other girls from our pain, our scars.
When Taraana reappears, he asks for our help. Dangerous magical forces are chasing him, and they will destroy him to get his powers. We will do everything to save him—if we can. For if Taraana is no longer safe and free, neither are the Wild Ones. And that is a fate that we refuse to accept. Ever again.
Praise for The Wild Ones
"Utterly unique storytelling. The Wild Ones is just as magical as the girls and cities found within its pages, weaving together a tale that refuses to flinch."
— Chloe Gong, New York Times bestselling author of These Violent Delights
"Prose as lush and as beautiful as the world of the In Between, it's easy to get lost in Azad's feminist fantasy The Wild Ones, where diamonds exist as magic and every doorway leads to the oldest cities in the world."
— Roselle Lim, author of Natalie Tan's Book of Luck and Fortune and Vanessa Yu's Magical Paris Tea Shop
"The Wild Ones is a stunning tale of resilience, tenderness, and fierce wildness, all rendered in Azad's exquisite prose—a symphony of a novel." 
— Axie Oh, author of Rebel Seoul
"To read Nafiza Azad's The Wild Ones is to journey into a literary spice shop, a space full of bright colours and sharp tastes, where bitterness leaves the delicate taste of hope on the tongue, and the acrid burn of reality is sweetened by love, friendship, and the resiliency the human spirit. Tragic and triumphant, lush and lyrical, The Wild Ones will linger with readers long after the last page has been read."
— Natasha Deen, award-winning author of In the Key of Nira Ghani
"The Wild Ones is a breathtakingly unique story of empowerment, perseverance, and the magic of sisterhood. Azad's exquisite prose and captivating voice will enchant readers for years to come. An astonishing literary jewel not to be missed!"
— Julian Winters, award-winning author of Running With Lions
"Unapologetically brown and fiercely feminist, The Wild Ones is a fantasy with teeth: one that does the genre the greatest justice by acknowledging its ability to call to task painful legacies and institutionalized wrongs, while giving the reader a brilliant, beautifully worded whirlwind of an adventure alongside Paheli and her sisters. Readers will find their own hearts aching and enchanted with every single page turn. This is an incredible addition to the modern young adult canon, and once again marks Nafiza Azad as a storyteller to recognize and respect."
— Karuna Riazi, author of The Gauntlet
"Absolutely gorgeous from the inside out. With lyrical prose that left me in awe and characters that I adored from the very first page."
— Mason Deaver, author of The Ghosts We Keep and I Wish You All the Best
"The Wild Ones will take you on a journey of staunch sisterhood that unapologetically tackles societies' ugliest flaws with resilience and a fierce feminism. Azad's lyrical prose as well as her enchanting and frequently mouth-watering imagery will stay with you long after you are done."
— Sabina Khan, Author of Zara Hossain Is Here
"A stunning addition to the world's greatest feminist power novels, THE WILD ONES delivers a careful, heart-heavy tale about the myriad meanings of sisterhood. About the things that shape us into who we are. And it's done using prose so lyrical you could dance to it.
Nafiza Azad's characters are bold, empowered, and poetic in their own right, all of which is couched inside such beautiful vulnerability. Paheli's story is one for all but it's also a gift placed directly into the palms of readers of color.
THE WILD ONES swept me away."
— Cam Montgomery, author of By Any Means Necessary
"A powerful feminist account of sisterhood, the longevity of pain, and the reclamation of power."
— Kirkus Reviews
"Azad's writing is gorgeous, and this cast of characters is remarkably easy to fall in love with."
— Buzzfeed
"This explicitly feminist contemporary YA fantasy is a haunting read. Switching between prose and poetry and between third person plural and Paheli's perspective, the writing is as inventive as it is compelling."
— Buzzfeed