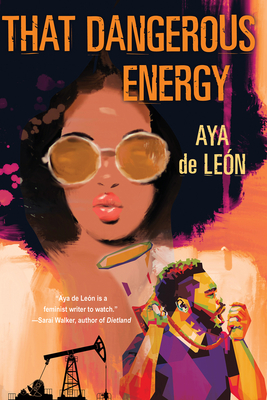 That Dangerous Energy
Publication Date:
December 27th, 2022
Usually Ships in 1 to 5 Days
Description
Two-time International Latino Book Award-winning author Aya de León brings her unique blend of commercial fiction, timely social commentary, and sexy, page-turning storytelling in a novel of climate change in which the personal and the political collide for one woman torn between her own survival and the survival of the planet.
Marrying a billionaire will fulfill this struggling artist's dreams—and enable her to make a difference. But exposing the truth will put all her convictions on one dangerous line . . .  Coming from a troubled youth, Morgan Faraday grabs every opportunity to up-level her life. So she definitely plans to keep oil company heir Sebastian Reid interested . . . all the way to the altar. He's brilliant, supportive, and is turning his billion-dollar company green to make up for his ancestors' exploitation. With him, Morgan can have love, money, and the power to make the world better. And securing her future is far more important than the attractive environmental activist she suddenly has unexpected feelings for . . . But once Morgan gets a glimpse of Sebastian's secret allies and confidential emails, she's stunned to find he's only talking a good game. His company is responsible for several ecological disasters, and a chance encounter makes it clear to Morgan the lengths he'll go to stay on top. To gather enough evidence to expose him, Morgan will have to rely on her quick wits and new friends to stay one step ahead of a corporate conspiracy. But as the danger comes closer, will Morgan put herself first and run—or face down the risk, even at her cost of her life?
Praise for That Dangerous Energy
Praise for Aya de León  
 
"The author of the four Justice Hustlers novels—mysteries with a heightened leftist social awareness—has produced a passionately felt stand-alone with an affecting personal story at its center." —The Washington Post on A Spy in the Struggle  
 
"Aya de Leon's latest is part of a new wave of espionage fiction from authors of color and women, many of whom place emphasis on the disturbing nature of being forced to spy on one's own." —Crime Reads, Most Anticipated Books of Fall on A Spy in the Struggle
 
"Gripping feminist heist fiction about turning the tables on the disaster capitalists in the jaws of climate apocalypse? Improbably and thrillingly, Aya de León has pulled off exactly that with Side Chick Nation. I couldn't put it down." —Naomi Klein, author of The Shock Doctrine on Side Chick Nation  
 
"The fourth title in de León's genre-bending Justice Hustlers series is a multifaceted tale. On one level, it's an entertaining feminist heist tale with a satisfying Robin Hood–style caper or two, but where the book truly shines is in spotlighting the challenges facing former sex workers and in angling an unflinching lens on the plight of Puerto Rico, both before and after the Maria disaster. An absorbing, enlightening book that exemplifies the power of good storytelling." —Kirkus Reviews, STARRED REVIEW for Side Chick Nation  
 
"[This] layered tale weaves heist capers, romantic suspense, and unforgettable realism in a look at Puerto Rico after it was devastated by Hurricane Maria… De León brings feminism, racial equality, and page-turning entertainment to the best book yet in her uniquely powerful Justice Hustlers series." —Booklist, STARRED REVIEW for Side Chick Nation  
 
"[The Boss] offers poetic and savvy descriptions of women's inner and external challenges that are reminiscent of Sister Souljah's or Ntozake Shange's work…The worst thing about the book is that it ends." —Bitch Magazine on The Boss  
 
"Pure escapism is what author Aya de León offers here with a story that actually has many separate plots—romance, family drama, a little espionage, and surprisingly righteous feminism—all of them appealing…every reader will be able to find a little of herself there, which makes this a doubly fun novel to enjoy." —The Miami Times on The Boss  
 
"A lusty tale…a page-turner we can dive into for an escape from poverty, sexism and racism, but also a rallying cry to toss out those systems and rewrite the rules." —The Washington Post on Uptown Thief  
 
"This well-written and enjoyable installment in de León's unique, feminist, urban crime fiction series, Justice Hustlers infuses satisfying power in both plot and character. Readers will embrace this heist story with heart and its hero Tyesha, a smart yet fallible professional and champion for struggling women. León, who is also a poet, social commentator, and head of the Poetry for the People program at UC Berkeley, is a crime writer to watch." —Booklist, STARRED REVIEW for The Boss  
 
"Aya de León is a feminist writer to watch." —Sarai Walker, author of Dietland