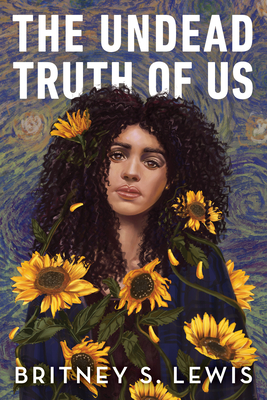 The Undead Truth of Us
Publication Date:
August 9th, 2022
Publisher:
Disney Hyperion
Usually Ships in 1 to 5 Days
Description
A Kansas Notable Book of 2023!
The Astonishing Color of After meets Warm Bodies and Wilder Girls in this speculative YA debut about a dancer whose life changes forever after she witnesses her mom's sudden zombification and subsequent death.
Death was everywhere. They all stared at me, bumping into one another and slowly coming forward.
Sixteen-year-old Zharie Young is absolutely certain her mother morphed into a zombie before her untimely death, but she can't seem to figure out why. Why her mother died, why her aunt doesn't want her around, why all her dreams seem suddenly, hopelessly out of reach. And why, ever since that day, she's been seeing zombies everywhere.
Then Bo moves into her apartment building—tall, skateboard in hand, freckles like stars, and an undeniable charm. Z wants nothing to do with him, but when he transforms into a half zombie right before her eyes, something feels different. He contradicts everything she thought she knew about monsters, and she can't help but wonder if getting to know him might unlock the answers to her mother's death.
As Zharie sifts through what's real and what's magic, she discovers a new truth about the world: Love can literally change you—for good or for dead.
In this surrealist journey of grief, fear, and hope, Britney S. Lewis's debut novel explores love, zombies, and everything in between in an intoxicating amalgam of the real and the fantastic.
Praise for The Undead Truth of Us
"Lewis sensitively balances a sometimes-scary world populated by the undead with both melancholy and hope in this surreal debut. . . . An equally compassionately drawn supporting cast adds depth to this haunting tale about finding love and happiness in the aftermath of tragedy." —Publishers Weekly

"Lyrical, vivid writing evokes the depths of Z's emotions. . . . Lewis's portrayal of characters who are predominantly people of color is exceptional in the authentic dialogue and internal monologues that reference race. She also does an outstanding job portraying how teenagers see themselves and one ­another, how they try out different personalities and approaches to life. . . . For teens who can handle dark themes of loss, this is an author whose voice needs to be heard." —School Library Journal
"Grieving a dead parent is made even more unbearable by a zombie outbreak only Zharie seems to notice. Zharie and her mother were the only Black women on the West Coast Swing dance floor, but after her mother's death, Zharie is alone in other ways, questioning everything about her mom's death, especially why no one else noticed she morphed into a zombie as she died. . . . Zharie narrates this mindfully haunting story with a sharp attention to sensory details, emphasizing the visceral shifts from living to undead and back; for Zharie, being close to Bo, with his soft lips and disarming smile, can quickly become proximity to death, gore, and a pungent stench. . . . A terrifyingly grounded accounting of the monsters that haunt us." —Kirkus
"Lewis' debut heartbreakingly examines a young girl's process of learning to move on. . . . Lewis uses a gentle hand to craft Zharie's story and the journey of her grief. In many ways, this is reminiscent of the quintessential summer coming-of-age book; Zharie uses her summer break to uncover unanswered questions, reassess friendships, and explore a budding romance. While the zombies add a fantastical flavor, Lewis' loving study of the many faces grief can wear, which gives Zharie plenty of space to sort out her emotions and priorities in life, makes this book better suited for readers who prefer slower-paced stories. Moving and, ultimately, hopeful." —Booklist
"Sophomore Zharie and her mother were always close, especially with their shared interest in the West Coast swing, despite often being the only brown girls on the dance floor. She feels deeply alone after her mother's death, questioning everything—especially why no one noticed her mom had morphed into a zombie at the end. . . . Zharie narrates this mindfully haunting story with a sharp attention to sensory details like color and texture, which makes shifts from life to undead and back again even more visceral. Being close to a boy with soft lips and a disarming smile, for example, can very quickly turn into being in proximity to death, gore and a pungent stench. Zharie powers through to learn that zombies are less a threat and more a symbol of heartbreak, but unfortunately there's more pain to come as she uncovers the circumstances surrounding her mother's last days. Readers beware: this book may kill you." —Bulletin of the Center for Children's Books