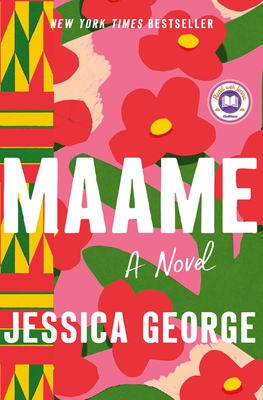 Maame: A Today Show Read With Jenna Book Club Pick
Publication Date:
January 31st, 2023
Publisher:
St. Martin's Press
Usually Ships in 1 to 5 Days
Maameis a deeply moving story about growing up, moving on, grief, and tradition. Jessica George has created a deeply funny and tragic protagonist, and perfectly conveys the challenges of a twenty-five-year-old navigating modern life.
February 2023 Indie Next List
Description
AN INSTANT NEW YORK TIMES BESTSELLER! • A Today Show #ReadWithJenna Book Club Pick • A February 2023 Indie Next Pick

"Sparkling." —The New York Times

"An utterly charming and deeply moving portrait of the joys—and the guilt—of trying to find your own way in life." —Celeste Ng, #1 New York Times bestselling author of Our Missing Hearts

"Lively, funny, poignant . . . Prepare to fall in love with Maddie. I did!" —Bonnie Garmus, #1 New York Times bestselling author of Lessons in Chemistry
Maame (ma-meh) has many meanings in Twi but in my case, it means woman.
It's fair to say that Maddie's life in London is far from rewarding. With a mother who spends most of her time in Ghana (yet still somehow manages to be overbearing), Maddie is the primary caretaker for her father, who suffers from advanced stage Parkinson's. At work, her boss is a nightmare and Maddie is tired of always being the only Black person in every meeting.
So when her mum returns from her latest trip, Maddie seizes the chance to move out of the family home and finally start living. A self-acknowledged late bloomer, she's ready to experience some important "firsts": She finds a flat share, says yes to after-work drinks, pushes for more recognition in her career, and throws herself into the bewildering world of internet dating. But when tragedy strikes, Maddie is forced to face the true nature of her unconventional family, and the perils—and rewards—of putting her heart on the line.
Smart, funny, and affecting, Jessica George's Maame deals with the themes of our time with humor and poignancy: from familial duty and racism, to female pleasure, the complexity of love, and the life-saving power of friendship. Most important, it explores what it feels like to be torn between two homes and cultures―and it celebrates finally being able to find where you belong.
"Meeting Maame feels like falling in love for the first time: warm, awkward, joyous, a little bit heartbreaking and, most of all, unforgettable." —Xochitl Gonzalez, New York Times bestselling author of Olga Dies Dreaming
Praise for Maame: A Today Show Read With Jenna Book Club Pick
A Today Show #ReadWithJenna Book Club Pick
A February 2023 Indie Next Pick
"George paints in bold, bright strokes [and] lets dark moments commingle with light ones…George shows the details and scope of life with such confidence and joie de vivre, it's easy to forget she's a first-time novelist. By the end of Maame, Maddie still has questions and she's still curious, but she knows how to find what she needs in the real world. If that's not a modern hero's journey, I don't know what is." —The New York Times
"The voice of Maame is singular and interesting—raw and new. On one page I was crying, yet on another page, I laughed hysterically." —Jenna Bush Hager, Today
"Refreshing, irresistible." —Reader's Digest
"By turns tender and comic, this portrait of a young woman's journey to self-understanding is triumphant." —People
"Her fresh, vulnerable voice speaks directly to readers, without hiding behind glibness or easy self-assurance. George writes with a natural cadence that keeps the story engaging, her characters multidimensional, each of them deeply believable....Readers will be drawn into the peaks and troughs with this intrepid protagonist, feeling a sense of connection to and trust in her character. Maame isn't always an easy story to read, but it is always told with grace and compassion. As Maddie breaks through layers of family secrecy, it's a pleasure to watch her navigate the challenges of growth and growing up, to address what it means to be an adult and to live a full life." —The Washington Post
"George has fashioned an appealing hero here: You can't help but root for Maddie's emancipation. Funny, awkward, and sometimes painful, her blossoming is a real delight to witness. A fresh, often funny, always poignant take on the coming-of-age novel." —Kirkus (starred review)
"A pitch-perfect debut…The work's ample magnetism resides in the savvy portrayal of Maddie as a complicated, sharp, and vulnerable person who is trying to figure out adulthood. Readers will revel in this." —Publishers Weekly (starred review)
"This evocative—and, at times, gloriously messy—coming-of-age story tackles enormous contemporary topics and issues… Maame's clear, sharp-eyed, detail-focused, honest voice provides a consistent, compelling thread throughout the narrative... A thought-provoking and enjoyable debut." —The Boston Globe
"Maame is a compelling, deeply moving novel anchored by George's charming, honest, and strikingly original voice." —Shondaland
"A vivacious debut." —Elle
"Masterfully balancing comedy, tragedy and tenderness, Maame is a nuanced and powerful coming-of-age story. George candidly captures the false starts, heartbreak and awkwardness of early adulthood with empathy and a necessary dose of humor. Like Helen Fielding's Bridget Jones, Candice Carty-Williams' Queenie Jenkins and Gail Honeyman's Eleanor Oliphant before her, Maddie is a good reminder that through all of life's hardships, we can be the authors of our own happy endings, and it is never too late to become who you might have been." —Bookpage
"A funny, poignant, and relatable tale about self-discovery." —Real Simple
"George illustrates the complexities of navigating two cultures and rising from the pressure of other people's expectations beautifully. This is a clever and deeply moving debut." —Booklist
"A wry, compassionate debut novel...Full of dry humor and entirely relatable moments, Maame is a warmhearted, often hilarious account of one woman's journey through her awkward yet exciting 20s. Readers will root for Maddie to find self-confidence and happiness, both at work and in her personal life...George's narrative is a tribute to all women who make the effort—no matter how difficult or confusing—to take control of their own lives." —Shelf Awareness
"Meeting Maame feels like falling in love for the first time: warm, awkward, joyous, a little bit heartbreaking, and, most of all, unforgettable. Jessica George viscerally renders the exquisite pain and poignant hilarity of coming of age as a woman today while perfectly capturing the extra thickets of thorns that lay in the paths of women of color in all white spaces. Maame is so many women I have known and loved: experiencing firsts, coming to hard revelations and choosing to bite into life with full, open hearts."
—Xochitl Gonzalez, New York Times bestselling author of Olga Dies Dreaming
"A poignant coming-of-age tale about finding strength, hope and courage when life gets too much and leaves you with more unanswered questions. Maame's quiet confidence is true to life and liberating." —Lizzie Damilola Blackburn, author of Yinka, Where is Your Huzband?
"Irresistibly charming, this story of a later bloomer shows us that we all find our stride in life when we are meant to, even if it's not when the rest of the world expects us to. Maame left me with a huge smile and a full heart!" —Mikki Brammer, author of The Collected Regrets of Clover
"I inhaled Maame, a brilliant coming-of-age story. Maddie is such a relatable heroine, her voice honest, warm, heart-breaking and heart-healing. It felt truly modern, yet somehow timeless. I adored it." —Nikki May, author of Wahala
"I loved every page of this beautiful, heartwarming, empowering book. The world is going to fall in love with Maddie—she stole quietly into my heart and made herself at home there. An exceptional debut from an incredibly exciting new talent."
—Beth O'Leary, bestselling author of The Flatshare
"A tender and absorbing novel." —Peace Adzo Medie, author of His Only Wife
"This is such a special book. Warm, beautifully drawn and instantly engaging, George tackles pain, loss and longing with the lightest of touches. I learned so much from Maddie, even as I was rooting for her to reclaim her power and jump-start her own life." —Lauren Bravo, author of The Second Chance Store
"This book is going to be EVERYWHERE next year. A truly sparkling coming of age tale. Vividly drawn, witty and heartbreaking." —Julie Owen Moylan, author of That Green-Eyed Girl
"Maame is a really special novel, at once sweet and sad and funny and so full of life. The sort of book that people are going to cherish, and with good reason." —Bobby Palmer, author of Isaac and the Egg