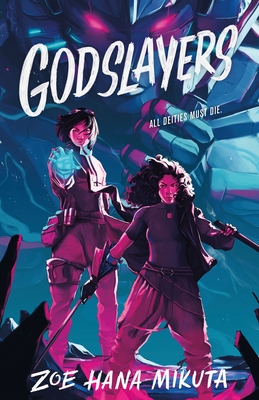 Godslayers (Gearbreakers #2)
Publication Date:
June 28th, 2022
Publisher:
Feiwel & Friends
Usually Ships in 1 to 5 Days
Description
Godslayers—Zoe Hana Mikuta's high-octane sequel to Gearbreakers—is perfect for fans of Pacific Rim, Pierce Brown's Red Rising Saga, and Marie Lu's Legend series.
The only way to kill a god is from the inside...
The Gearbreakers struck a devastating blow against Godolia on Heavensday, but the cost of victory has been steep. Months later, the few rebels who've managed to escape the tyrannical empire's bloody retribution have fled to the mountains, hunted by the last Zenith—Godolia's only surviving leader.
Eris has been held prisoner since the attack on the capital city, which almost killed her. And she begins to wish it had when she discovers Sona—the girl she loves, the girl she would tear down cities for—also survived, only to be captured and corrupted by the Zenith. The cybernetic brainwashing that Sona has forcibly undergone now has her believing herself a loyal soldier for Godolia, and Eris' mortal enemy.
With the rebellion shattered and Godolia moving forward with an insidious plan to begin inducting Badlands children into a new Windup Pilot program, the odds have never been more stacked against the Gearbreakers. Their last hope for victory will depend on whether Eris and Sona can somehow find their way back to each other from opposite sides of a war...
Praise for Gearbreakers:
A Junior Library Guild Selection

"An absolute joyride ... Zoe Hana Mikuta is a talent to be in awe of." —Chloe Gong, New York Times-bestselling author of These Violent Delights

"Dark, fierce, thrilling, and tender, Gearbreakers will make your blood sing. ... An electric heart beats on every page of this breathlessly paced cyberpunk adventure." —Nina Varela, author of Crier's War
Praise for Godslayers (Gearbreakers #2)
Praise for Godslayers:
"The tight worldbuilding keeps readers hooked as our heroines work to find their way back to each other. Mikuta plays with tropes throughout the series and executes her action sequences to great effect. ... This mecha dystopian has a ­diverse, witty cast; a worthy purchase for libraries that own Gearbreakers." —School Library Journal
Praise for Gearbreakers:
A Junior Library Guild Selection
"An absolute joyride of a story set in a vivid, arresting world. Gearbreakers is sci-fi at its very finest, combining the grandeur of mecha fighting machines with the intimacy of (splendidly feral) found family. Zoe Hana Mikuta is a talent to be in awe of." —Chloe Gong, New York Times-bestselling author of These Violent Delights

"Dark, fierce, thrilling, and tender, Gearbreakers will make your blood sing. Set in a ruthless, vividly imagined world against the scope of gods and sword-fighting mechas and a crushing war, Zoe Hana Mikuta deftly balances the brutal with the hopeful. An electric heart beats on every page of this breathlessly paced cyberpunk adventure." —Nina Varela, author of Crier's War
"An intense sci-fi adventure with heart, hard choices, and found family ... Delivered through propulsive prose and immersive worldbuilding, Gearbreakers is twisty, ominous, and high-octane. ... Glitteringly cinematic." —Tor.com
"Even more entertaining than a big summer blockbuster." —PopSugar
"Zoe Hana Mikuta's Gearbreakers will ruin your life and I mean that in the best way possible. ... Will blow your mind." —Culturess
"A brutal and commanding debut ... Mikuta has delivered an extraordinary novel that perfectly balances high-octane action with intimate character development and tender hope." —Vulture
"Like Pacific Rim, Gearbreakers brings a sense of the poetic to the action-driven proceedings. In the case of Pacific Rim, the poetry was in the visuals, while in Gearbreakers, it manifests in the musicality of the language. Debut author Zoe Hana Mikuta has a way with words, and it will be exciting to see how her voice develops over time." —NPR
"Frantic, bordering on chaotic, fight scenes deftly convey the world's reality, wherein second-guessing guarantees death. ... Quippy exchanges among the inclusive cast bring a levity that balances their grim realities, and the cliffhanger ending of this action-packed series starter suggests that a deeper political conspiracy will unfold in the sequel." —Publishers Weekly