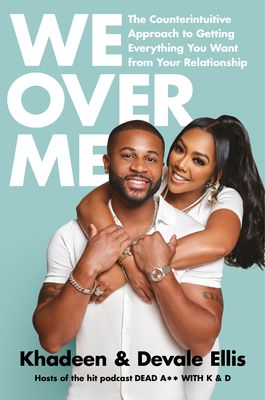 We Over Me: The Counterintuitive Approach to Getting Everything You Want from Your Relationship
Publication Date:
February 7th, 2023
Usually Ships in 1 to 5 Days
Description
NEW YORK TIMES BESTSELLER • The stars of the social media show The Ellises and hosts of the Webby Award-winning podcast Dead Ass with K&D share the core pillars of their relationship as millennial lovers and parents that have allowed them to thrive.
"Staying married in this day and age takes a whole different mindset, and this book gives an intimate and honest look at the inner workings of their strong union."—Gia Peppers, award-winning journalist and host
After twelve years of marriage, twenty years together, and four kids, Devale and Khadeen Ellis have been through a lot. They've loved their way through a long-distance relationship, financial instability, parenthood, Khadeen's near-death, and their near-divorce, chronicling their day-to-day life with their boys online. After much trial and error, they hit upon one surprising, essential truth: If you're looking for a healthy relationship and a fulfilling life, focus on your partner's needs instead of your wants. Choosing service over selfishness will not only make your relationship stronger, but it will help you achieve your own goals and build a legacy together.
With their trademark transparency and humor, Khadeen and Devale share the messy, behind-the-scenes work of what it takes to succeed and support one another in their search for individual purpose while growing in their marriage. They discuss family, parenting, sex and intimacy, finances, and commitment, with honest advice threaded through their stories, such as:
• Stop comparing yourselves to other couples and make your own rules.
• Learn how to function as a team.
• Keep talking about sex.
• The kids ain't first.
The Ellises might not have all the answers, but they do know that good love takes friendship, grace, and service. Their personal and relatable truths will inspire you to be the kind of partner you want to be so you can build a supportive, enduring relationship.
Praise for We Over Me: The Counterintuitive Approach to Getting Everything You Want from Your Relationship
"Khadeen and Devale Ellis's story shows that marriage can be a bumpy ride, but if you can laugh and cry together, argue fairly, and put we over me, you'll be on your way to long-lasting love and commitment."—Tiffany "The Budgetnista" Aliche, New York Times bestselling author of Get Good with Money
"Putting we over me is a concept that we have applied to our relationship for twenty-five years. Khadeen and Devale are great examples for how loving, playful, devoted, and business minded your relationship can be. Intentionally doing it all together and consistently putting the we over me. We are certain their testimony will inspire you and activate your relationship to mirror what they model."—Dondré Whitfield and Salli Richardson Whitfield, actors
"The Ellis's story shows that while marriage can be a bumpy ride, it can also be unbelievably beautiful if you learn how to argue constructively, put we over me, and remember to have a little fun along the way. This book will have you laughing and crying, and it's a must-read for couples and singles who want the best out of their relationship (or who just want to be entertained)!"—Tommy and Codie Elaine Oliver, founders of Black Love, Inc.
"Loving openly and honestly isn't easy, yet we know that it is necessary, as we can all benefit immensely. How grateful we are for Khadeen and Devale's impact on our lives through their courageous transparency in the practice of love. We Over Me teaches us that it is their love for themselves, each other, and their family that invites us all to love and love more abundantly."—Karega Bailey and Dr. Felicia Gangloff-Bailey, PhD, SOL Affirmations podcast
"Khadeen and Devale are a true example of what marriage is and how the foundation is love—from the highs to lows, ups and downs, and everything in between. We Over Me unpacks the core values of defining your own marriage, while keeping the commitment in the forefront. This book is a must-have and is sure to help tons of people and their marriages."—Eva Marcille, actor
 
"K&D give hope to millennials who want to follow their dreams, remain in love, and have families. Staying married in this day and age takes a whole different mindset, and this book gives an intimate and honest look at the inner workings of their strong union."—Gia Peppers, award-winning journalist and television host