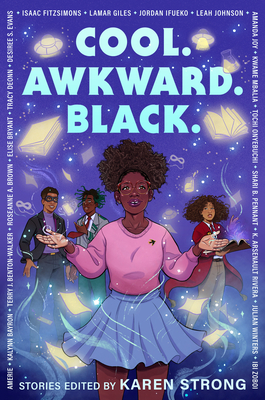 Cool. Awkward. Black.
Publication Date:
January 10th, 2023
Publisher:
Viking Books for Young Readers
Usually Ships in 1 to 5 Days
Description
Real or imaginary, geekdom is where it's at in this multi-genre YA anthology that celebrates "the geek," with stories by some of today's top bestselling, critically acclaimed Black authors.
Contributors include Amerie, Kalynn Bayron, Terry J. Benton-Walker, Roseanne A. Brown, Elise Bryant, Tracy Deonn, Desiree S. Evans, Isaac Fitzsimons, Lamar Giles, Jordan Ifueko, Leah Johnson, Amanda Joy, Kwame Mbalia, Tochi Onyebuchi, Shari B. Pennant, K. Arsenault Rivera, Julian Winters, and Ibi Zoboi.
A girl who believes in UFOs; a boy who might have finally found his Prince Charming; a hopeful performer who dreams of being cast in her school's production of The Sound of Music; a misunderstood magician of sorts with a power she doesn't quite understand.
These plotlines and many more compose the eclectic stories found within the pages of this dynamic, exciting, and expansive collection featuring exclusively Black characters. From contemporary to historical, fantasy to sci-fi, magical to realistic, and with contributions from a powerhouse list of self-proclaimed geeks and bestselling, award-winning authors, this life-affirming anthology celebrates and redefines the many facets of Blackness and geekiness—both in the real world and those imagined.
Praise for Cool. Awkward. Black.
Praise for Cool. Awkward. Black.:
* "The collection...moves beyond representation to inspiration, serving as a touchstone for young readers and writers to build on creatively. The intentional blending the rules of genre fiction magnifies the idea of authorship—your story, your rules, societal expectations be damned." –The Bulletin of the Center for Children's Books, starred review
"This energetic compilation of narratives is a beautiful tribute to and for young people who often find themselves on the margins of their social settings…A fearless and satisfying collection of expansive stories." –Kirkus Reviews

"Utilizing varying literary genres...the creators deftly interrogate issues of racism, homophobia and transphobia, and intimate partner violence, and depict everyday joys and pains of varied Black experiences." –Publishers Weekly
"Reading [this anthology] feels like a mystery box where every story is the most coveted prize. [A] necessary purchase."  –School Library Journal