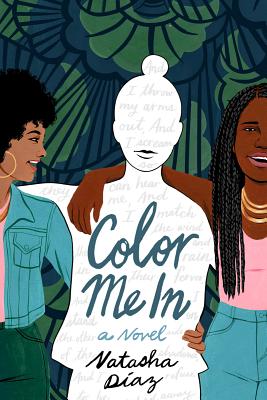 Color Me In
Publication Date:
August 20th, 2019
Publisher:
Delacorte Press
Description
A powerful coming-of-age novel pulled from personal experience about the meaning of friendship, the joyful beginnings of romance, and the racism and religious intolerance that can both strain a family to the breaking point and strengthen its bonds.
Growing up in an affluent suburb of New York City, sixteen-year-old Nevaeh Levitz never thought much about her biracial roots. When her Black mom and Jewish dad split up, she relocates to her mom's family home in Harlem and is forced to confront her identity for the first time.
Nevaeh wants to get to know her extended family, but because she inadvertently passes as white, her cousin thinks she's too privileged, pampered, and selfish to relate to the injustices African Americans face on a daily basis. In the meantime, Nevaeh's dad decides that she should have a belated bat mitzvah instead of a sweet sixteen, which guarantees social humiliation at her posh private school. But rather than take a stand, Nevaeh does what she's always done when life gets complicated: she stays silent.
Only when Nevaeh stumbles upon a secret from her mom's past, finds herself falling in love, and sees firsthand the prejudice her family faces that she begins to realize she has her own voice. And choices. Will she continue to let circumstances dictate her path? Or will she decide once for all who and where she is meant to be?
"Absolutely outstanding!" --Nic Stone, New York Times bestselling author of Dear Martin
Praise for Color Me In
"A riveting testament to the power of knowing where you come from to figure out where you're going . . . an emotional roller coaster you won't want to get off of. Absolutely outstanding!" —Nic Stone, New York Times bestselling author of Dear Martin
"[A] beautifully told and compelling coming-of-age story about not just finding your voice, but learning the important lessons of when and how best to use it." —Julie Buxbaum, New York Times bestselling author of Tell Me Three Things
 
"[A] tender and brave story that challenged every simplistic idea I have ever had about race and identity. . . . It is impossible not to root for Nevaeh Levitz as she navigates two cultural communities to find a true home in her own heart." —Attica Locke, Edgar Award-winning author of Blue Bird, Blue Bird
"In Díaz' skillful hands, the many aspects of Nevaeh's intersectional identity are woven together so that they are, as in real life, inextricable from each other. Broadly appealing." —Kirkus Reviews
"Fills a gap in teen fiction. . . . Recommend to fans of Elizabeth Acevedo's The Poet X."—School Library Journal
"Through micro- and macroaggressions, personal stumbles, genuine sadness and a hard-won first romance, Nevaeh's struggles excellently reflect the teen experience." —Shelf Awareness
"Highly relatable. . . .Nevaeh learns that identity is as beautiful as it is complicated, and readers will chear her on as she gradually becomes empowered to stand up for herself and others." -- Jewish Book Council