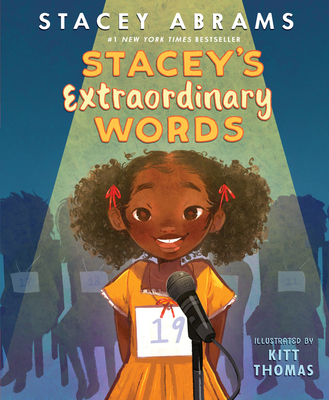 Stacey's Extraordinary Words
Publication Date:
December 28th, 2021
Usually Ships in 1 to 5 Days
Stacey Abrams shares her lifelong love of words, perfectly capturing the excitement—and fear--that come with spelling bee competition, and teaches young readers that winning isn't the most important thing.
January/February 2022 Kids Indie Next List
Description
#1 New York Times bestseller and NAACP Image Award winner! The debut picture book from iconic voting rights advocate and bestselling author Stacey Abrams is an inspiring tale of determination, based on her own childhood. 
Stacey is a little girl who loves words more than anything. She loves reading them, sounding them out, and finding comfort in them when things are hard. 
But when her teacher chooses her to compete in the local spelling bee, she isn't as excited as she thought she'd be. What if she messes up? Or worse, if she can't bring herself to speak up, like sometimes happens when facing bullies at school? 
Stacey will learn that win or lose . . . her words are powerful, and sometimes perseverance is the most important word of all. 
Plus don't miss the follow-up from the same team, Stacey's Remarkable Books!
Praise for Stacey's Extraordinary Words
"Abrams shares her love of words in this picture book drawn from a childhood memory. Readers will see the beginnings of a lifelong fascination with words, as well as the passion for fighting for others. A great addition for collections looking for stories about current political figures, as well as story time with a biography emphasis." — School Library Journal (starred review)
"This engaging, edifying, delightfully nerdy childhood retrospective from one of today's inspirational leaders speaks volumes." — Kirkus Reviews
"With warmth and candor, politician and voting rights activist Abrams tells a fictionalized story of her first spelling bee, emphasizing the value of education, of focusing on effort over result, and of standing up to bullying. In competition, Abrams reminds readers, victory can take years to arrive—and integrity and courtesy are always more important." — Publishers Weekly
"Charming and powerful." — Booklist